The Safe Disposal of Electronic Waste and Catalytic Converters in an Environmentally Friendly Manner
For companies that need a one-stop recycling solution
We provide environmentally responsible and compliant recycling solutions, and we reduce landfilling through our buyback initiative.
Catalytic converters are devices that reduce car exhaust emissions. Improper recycling of catalytic converters can lead to hazardous materials, such as asbestos, contaminating the environment. Failure to use a responsible recycler to recycle catalytic converters can result in fines or even imprisonment. At South Group Recycling, we take all necessary precautionary measures to guarantee that these materials are handled and disposed of safely.
Additionally, we offer competitive prices for scrap catalytic converters that are benchmarked against local and international indices. We also provide a convenient collection service for larger recycling orders.
Electronic waste refers to electronic equipment or assets such as computers, laptop servers, cell phones, kitchen appliances, and other electronic devices that are no longer required. The risks of not using a responsible recycler for electronic waste include hazardous materials being mishandled, improperly recycled, or even illegally dumped. This can have severe environmental consequences and is punishable by fines and imprisonment. South Group Recycling adheres to strict regulations of NEMWA Act 2018 to ensure that electronic waste is handled, recycled, and disposed of responsibly.
We provide additional services such as data destruction, asset management and secure disposition to help our clients ensure the safety and security of their data.
For your convenience we can arrive to collect larger recycling orders. It saves time, effort, and is cost effective. Please fill in this short form, and we'll be in touch shortly.
For over a decade, South Group Recycling has been one of the few certified responsible and environmentally friendly recyclers in the African region. What began as a small business has grown into a credible world-class recycling company, with three offices in South Africa. This growth is largely attributable to our rigorous internal quality regulations and meticulous processes, as well as our growing list of clients, who value a reliable and responsible business partner.
Our team of certified and highly trained professionals is here to help you recycle responsibly and in accordance with the highest environmental standards.
10+ years in the market has honed our skills to tailor the best recycling solution to each client's specific needs. And lead us to become a reputable, socially and environmental responsible employer that always puts talent's wellbeing and training first.
In addition to serving customers locally, we also partnership and work with businesses in other countries across Africa:
Contact us to ensure best recycling solutions for your business in Angola, Botswana, Burundi, Democratic Republic of the Congo, Eswatini, Ethiopia, Kenya, Lesotho, Madagascar, Malawi, Mozambique, Namibia, Rwanda, Tanzania, Uganda, Zambia, Zimbabwe.
We are always looking for new members to join our highly skilled warehouse and management teams. Please send your contact information and a short summary of your work experience to Jhb@south-group.co.za for further communication.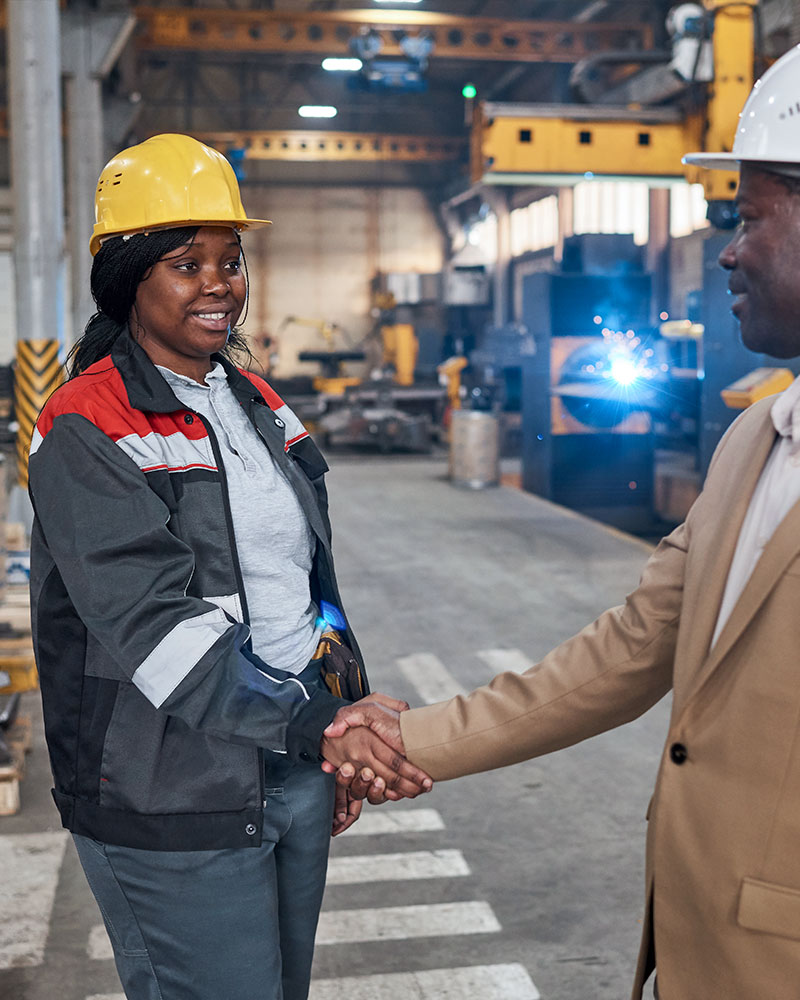 If you have any questions, feel free to contact us by phone, email or using the contact form.
7 in Mastiff Street, Unit 8, Linbro Business Park, Linbro, Sandton, 2090
2 Warbler Close, Unit 2, Montague Gardens, Cape Town, 7442
65 Marshall Drive, Unit 4, Mount Edgecombe, Durban, 4300
27 Henrico Road, Rosslyn, Akasia, Pretoria, 0182